The 2021 Mautic Conference will be this week on June 16th and 17th. We will have more than 40 speakers talking about how to use Mautic for Marketing and Sales, 2 of which are in Portuguese.
In Portuguese, we will have a session with Luiz Eduardo, Powertic founder, how to scale Mautic to large databases and my session about Mautic Reports, how to improve Mautic's reports with Metabase.
The suggested subscription price is $20 but you can register for $5 if you need to, no problem 🙂 Whether to attend or just to help product development:
I have separated some sessions that we thought are great:
01) Successful product development and marketing – this is how you use Mautic from day one. With smart campaigns, you can safely lead the first users of your products to the first WOW effect. In the session, I will present the phases of a product development and report on concrete examples from current projects where Mautic is used specifically for product development and market launch. Dirk Spannaus Founder and CEO of twentyZen GmbH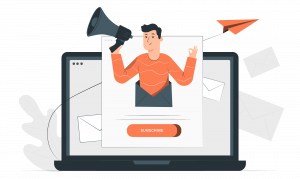 Receba Conteúdo exclusivo
Newsletter Exclusiva sobre Mautic, n8n, Entregabilidade e Ferramentas de NoCode / LowCode para Marketing.
02) 6 hands-on & practical Tips for a Successful Marketing Automation Implementation Marketing automation is only as good as the implementation, the process, and the commitment behind it. I have experienced a number of companies that were deeply impressed by marketing automation but failed to set up a thorough and realistic plan and process beforehand. In this 30 minute session, we will share the 6 most important tips to avoid the well-known pitfalls in the introduction and implementation of marketing automation and to ensure that you start with the right mindset. Els Knevels Growth hacker @Dropsolid Leen Penders CMO driving growth by customer experience Helena Pynte Helena is a digital marketing strategist
03) The slow death of cookies, and what it means for Mautic A lot is written these days about "the end of cookies". What does that mean for the future of tracking as the basis of Marketing Automation? Is it good or bad news for Mautic? And what are the implications? Ekke Guembel Mautic Enthusiast at Leuchtfeuer Digital Marketing – Team Lead in the Mautic project
04) Nobody likes Salespeople – especially not at parties Selling too early in a conversation can be deadly for closing a lead successfully. In this session we will explore how to use points and stages in Mautic to sell to the right person at the right time – AKA the magic cure called lead scoring. Alexander Hammerschmied Founder of hartmut.io – Simple is effective Mautic is an open-source and free platform, it has the support of collaborators around the world to keep improving every day, participate if you can. Thank you and see you at the event 🙂