Our Marketing Stack and why Powertic as a Mautic Expert uses Hubspot
First of all, we really believe we have to use the best option available, always, regardless of anything. We are not married to Mautic, we are married to the best practices to use technology to evolve sales
We really like Hubspot, we have been using the following Hubspot modules:

– CRM
– Chat
– Calendar Meeting
– Facebook Leads Integration

I think is really good to keep the information as much gathered as we could.

Hubspot has a Starter plan for U$25/month that's worthwhile.
The Hubspot cons are:
– For big contact list, like for more than 10k contacts, the marketing platform easily cross $1,000/monthly
– We can't create nurturing/drip campaign on Sales starter plan on Hubspot, it needs to be the Marketing plan which starts at $800 for 1,000 contacts.
– Advanced campaigns, for example, to send email/SMS if the contact access the requested page or did open an email, etc
– Dedicated IP. Hubspot starter plan offers email marketing but it's shared IP, for a dedicated one you need to pay $500/monthly which we can get for $25/month on Amazon SES.

Our Marketing Stack:
CRM, CHAT, CALENDAR MEETING, FACEBOOK LEADS INTEGRATION
– Husbpot starter plan for 3,000 contacts, we pay $25 + $20 additional for 2,000 contacts and we can still the CRM post sales, for Support and Customer Sucess.
MARKETING AUTOMATION and FORMS
– Mautic for nurturing campaign and some triggered emails – $10/monthly Linode
SMTP – Amazon SES IP dedicated 40k sents monthly
– $25 dedicated IP + 40k sents $5/monthly
ZAPIER
– $20/monthly to integrate Mautic with Hubspot, I don't trust Mautic plugin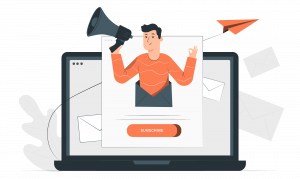 Receba Conteúdo exclusivo
Newsletter Exclusiva sobre Mautic, n8n, Entregabilidade e Ferramentas de NoCode / LowCode para Marketing.
LANDING PAGE
– Elementor Wordpress – $5/month
HOST
Wp engine – $35/month
All Marketing Stack costs $145/monthly