Mautic is a free open source Marketing Automation software. Nowadays, one of the biggest marketing challenges, in an overloaded world, is how to deliver the right content to the right person at the right moment. Marketing Automation is a knowledge area dedicated to this. Obviously, the software industry tries to associate "Marketing Automation" with software, but the concept is much more developed.
What exactly is Marketing Automation? Before we can explain that, we need to show how the internet has transformed marketing and sales.
How the internet changed the Marketing and Sales processes
Let's imagine typical marketing and sales processes where marketing is responsible only for creating consumer interest. There are many philosophies about creating interest, one of most common is AIDA.
Ok, the marketing department has always been recognized as the creative group behind banners, ads, commercials, and catalogs. They didn't need to understand everything about the product, just the main features, and advantages necessary to create "Works of Art".
Marketing goals were always delivered as a list of interested leads. These leads had a superficial understanding of the products and services. And Thus the marketing mission was completed, that was the end of their responsibility.
With interested leads in hand, Sales had the obligation to explain everything about the products, competitors and all content to guide consumer decision.
Image source: https://stevepatrizi.com/2012/10/23/the-new-marketing-sales-funnel/
In the above image we can see on the left side who was responsible for each step in the sales funnel, it's clear that marketing delivered a lead "less ready to buy".
Now things are different, with the internet, social media, and Google, consumers are searching, evaluating and deciding new suppliers through the internet, in a self-service way, without human contact. This movement is happening in all industries. They are consuming all content available on the internet to learn about products and services, but then most importantly, deciding which company is the best fit for them.
How Marketing Automation Platforms Support Marketing Teams
You will probably agree with me that Marketing responsibilities have increased. Let's look again at the funnel image on the right side. Now, marketing needs to educate the leads before sending them to sales, not because they choose to do so but because they are forced. If they don't do that, consumers will find another company who does.
Companies need to be in the mindset of the customer during this search, this is where everything starts.This is where profits are truly born.
With this new shift marketing teams need tools to Attract, Engaged, Educate, Convince and Report on the best actions to deliver "leads readiness to buy". Marketing Automation Platforms support this process, if CRM is the professional sales software, Marketing Automation is the professional marketing software.
What the Mautic platform does
All Marketing Automation platforms work on the SaaS model. The SaaS benefits are simple, customers don't need to worry about tech maintenance and settings. Therefore they charge $700 per 2,000 contacts per month on average.
There are many companies in this market: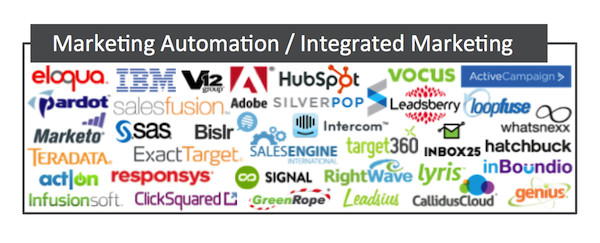 Mautic is the only free, open source and unlimited marketing automation platform available on the market today.
If you use WordPress, you know the advantages of having a platform where you can change everything. Let's highlight some of the prime Mautic features:
1) Lead Management
Manage all if your contacts efficiently. Mautic has tools to efficiently manage your contacts, such as creating fields, inserting comments, filters and sending e-mails. You can manage your contacts better than a typical sheet because your entire team can have logins to access Mautic through web.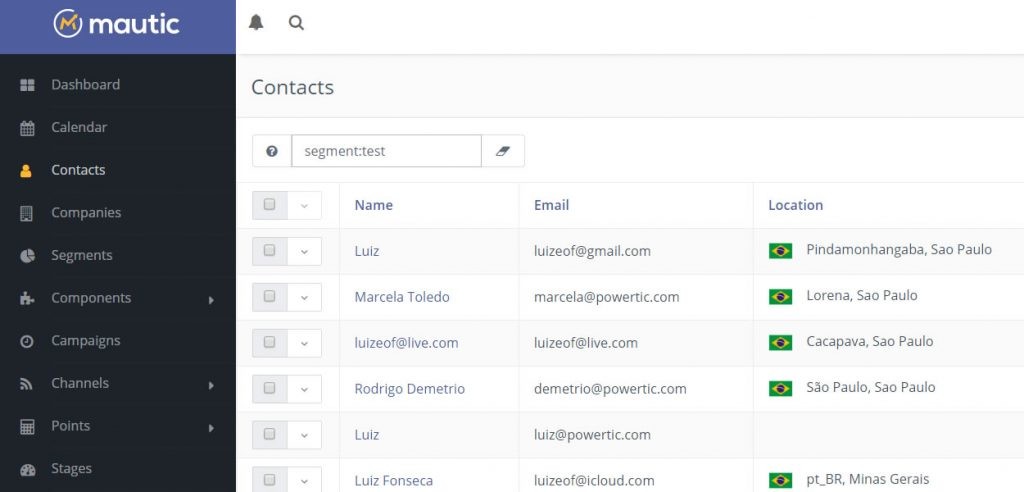 2) Lead Tracking
In your email tool, like Mailchimp, you can know who clicked or opened your message. With Google Analytics you know the pages that had the most hits, but you can't know WHO accessed that content. With Mautic, you get to know who clicked on your email, what page he went to, what pages he signed up for, a complete view of the points of contact between your leads and your company. This is because Mautic generates code similar to Google Analytics, you insert this code into the pages of your site.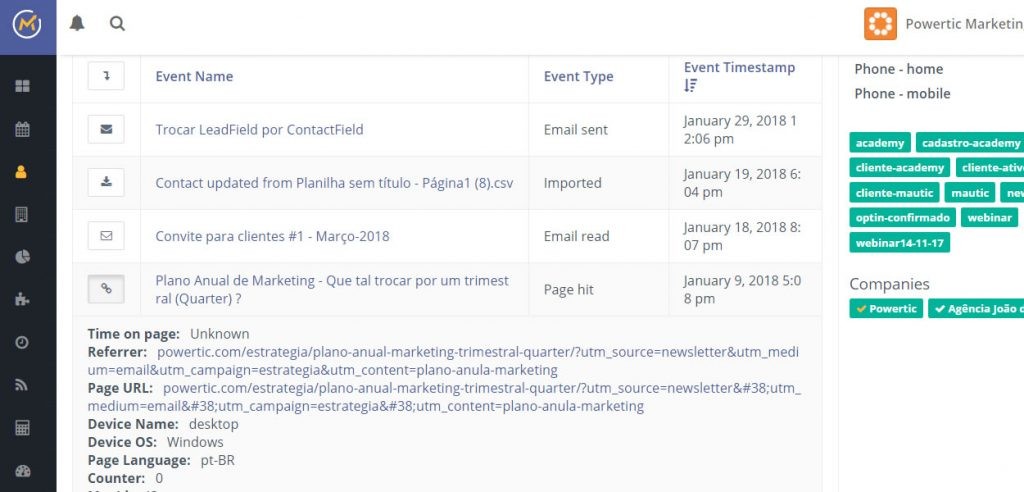 3) Email Marketing / Lead Nurturing
Lead Nurturing is the main goal for the adoption of Marketing Automation. With Mautic you can implement your Relationship Ruler and in that way create automatic email sequences that can be customized and configured in detail according to the purpose of your campaign. Let's say your company wants to send relevant information to your leads every week to keep the contact warm and active. Unlike the traditional email triggers, that you need to configure each message and push send, with Mautic you configure the frequency and messages but the rest Mautic does for you.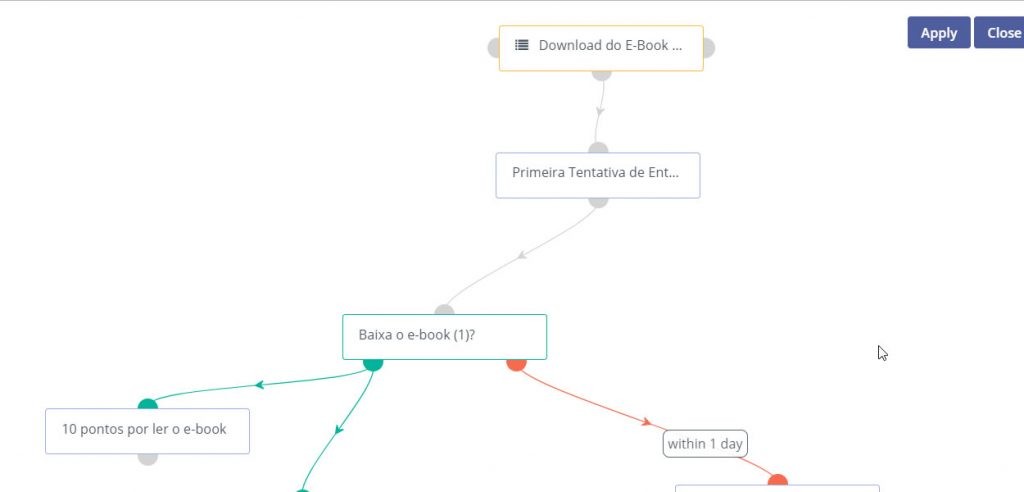 4) Landing Pages Builder
The landing page is the first page your lead visits from your company. Many experts consider landing page optimization as the primary marketing tool to deliver the expected results. With Mautic you get a powerful page creation tool and forms that through click and drag you can create efficient pages in minutes.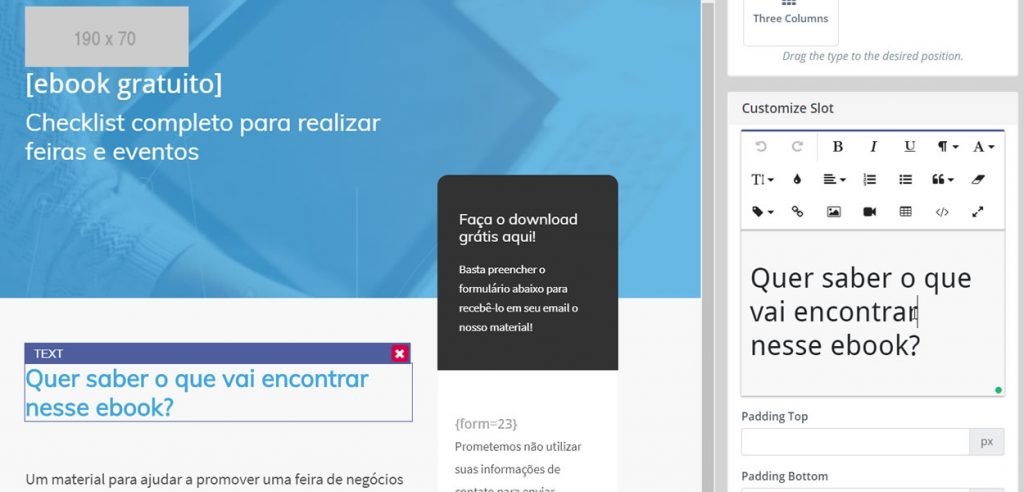 5) Lead Scoring
One of the main sales activities is to identify potential customers. This identification goes through several criteria and each company adopts one when it comes to setting up their prospecting list. This filter to reach the ideal customer happens automatically in the mind of the sellers. Some separate by the billing of the prospects, others the fact of already having a contact within the company. Everyone involved in sales is looking for a way to optimize their efforts by finding a list of potential customers that are within the target sought. This collection and filtering time is so great that surveys show that 70% of salespeople's time is spent looking for prospects for their list.
The goal of Lead Scoring is to deliver a list of qualified leads, leads that are closest to the conversion. With Mautic you can assign points for every action your leads make. Imagine creating a list with only the prospects who opened 70% of your emails and spent more than 1 minute on your services page and who is in the segment and billing you want, looks promising don't you think? Starting a conversation after so many interactions, in addition to increasing the probability of a sale, reduces your cycle.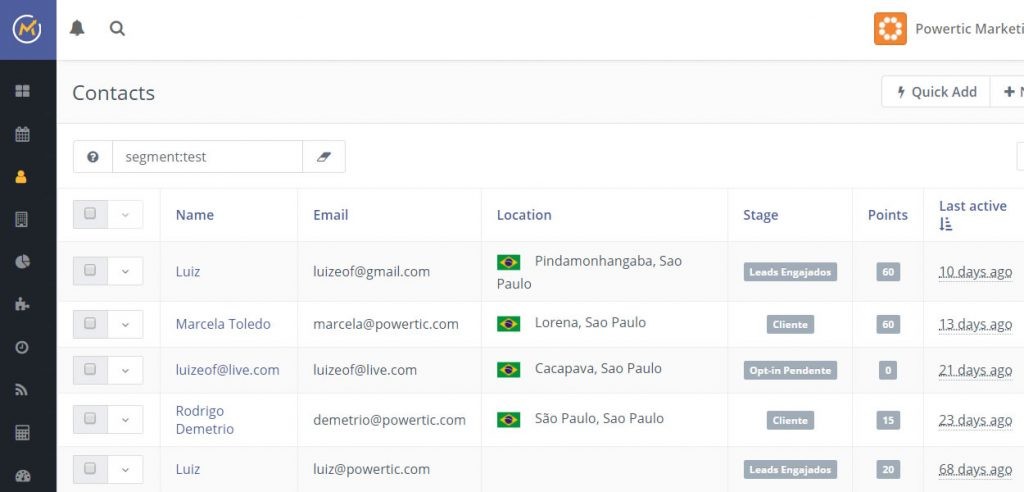 6) Campaign Overview
Visualize with a smart panel the progress of all campaigns and actions.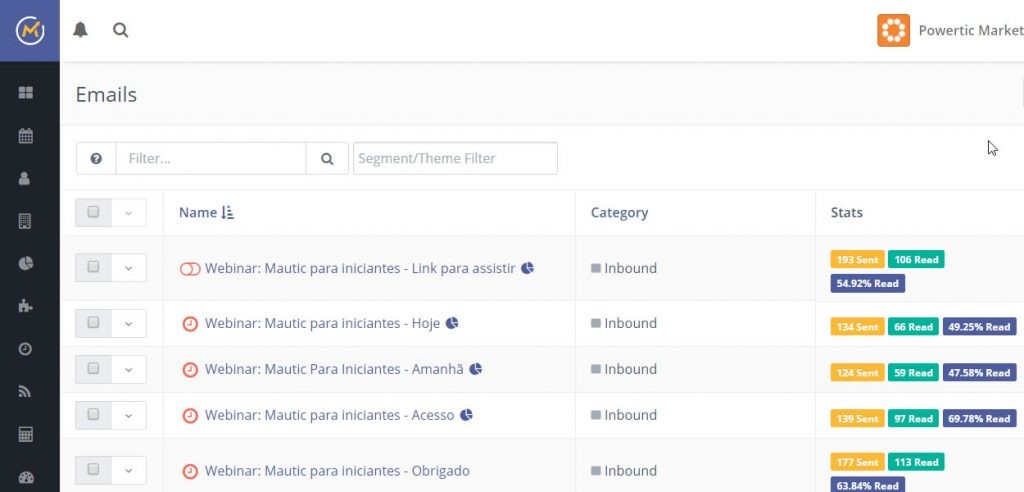 7) Integrations with CRM and other tools
You can download Mautic and integrate with the tools and systems you want. Mautic also has integrations ready with the main tools of the market.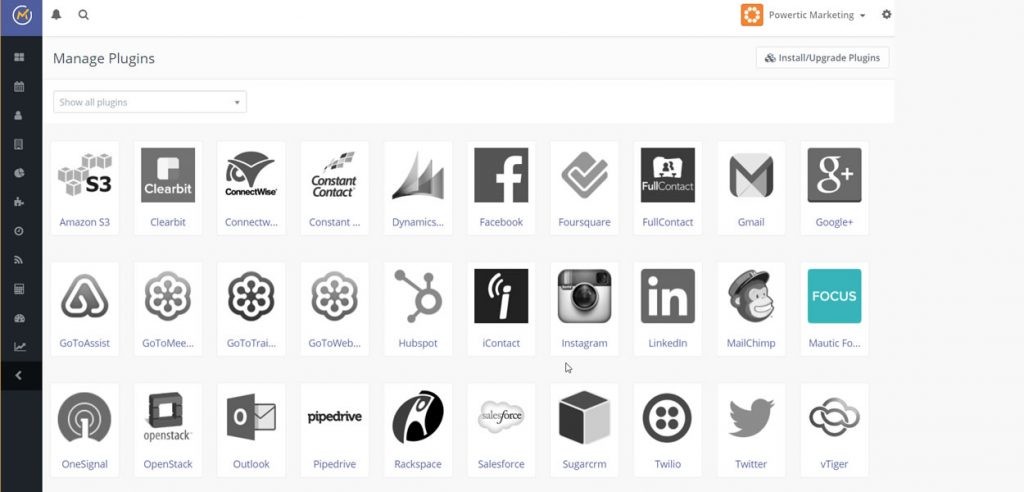 Mautic for Marketing Departments
The daily demand for results, a frantic change in the digital marketing landscape with new tools and formats. Manage employees and multidisciplinary service providers. Hire multiple marketing tools to streamline and analyze reports. Check marketing efforts. Generate more leads and results with the same budget. Reducing the fast pace of changing times is impossible, but improving the efficiency of your time and your team is possible with Mautic.
With Mautic you can reduce the number of tools you use, accurately measure marketing efforts, and reduce reliance on IT for creating new online campaigns. Starting Marketing Automation is very costly, and often difficult to convince leadership to invest and adopt. With Mautic you can set up a lab and prove to the board with real numbers that Automation Marketing is one of the best marketing tools to leverage quantifiable results.
Mautic for marketing agencies and consultants
Marketing Automation can become a new service in your agency. You can reduce the number of tools required to execute the same deliverables, with Mautic you can to send emails, create landing pages, and create efficient web forms. Mautic can be a way to increase the revenue of your agency.
With Mautic your agency can definitely pioneer the world of Marketing Automation without spending a dime to understand how to set up a new service. You can create a new service, with real possibilities of increased billing. Your agency can use Mautic to get more customers and remain fully aligned with what you sell.
How to get started with Mautic
You can download and install the source code on your server, very similar to the format of wordpress.
Because of the difficulty in installing and maintaining a Mautic server, we have created the Powertic Automation Marketing company, which offers Premium Support and Hosting plus training and consulting in Mautic. For agencies, we can create packages according to numbers of customers. For more information on Mautic hosting plans and pricing and support go to https://powertic.com
The Future of Marketing Automation and Mautic
The number of alternatives for sales and marketing is rich, Marketing Automation is just another one of them. It is not my intention, and I hope it is not yours either, to automate everything, definitely not. Studying the solutions available in the market will give you a broad view of actions, important to create your way.
Mautic helped me to understand Automation Marketing in practice, I hope it helps you too.
I want to take the opportunity and leave the invitation of our Meetup, a group focused on sharing experiences with Mautic and Marketing Automation. We will meet often to discuss new ideas, your presence will always be welcome ?
https://www.meetup.com/Mautic-Meetup-Ottawa
https://www.meetup.com/Mautic-Meetup-Sao-Paulo
I have no doubts that we are living the best time to introduce new tools and best practices to change our sales and marketing for better.